Workforce solutions are chosen by clients to solve staffing challenges that are:
complex, e.g. multi-sites, remote international locations, diverse workforce compliance needs
costly, e.g. staff assignment cost is prohibitive and/or cannot attract staff to the project
time consuming, e.g. setting up internal resource and supply chain, ties up internal resource
In its broadest sense, it covers the recruitment, bringing together and management of a diverse contingent workforce (local and foreign nationals, multi-skilled teams, multiple business functions, different skill levels) in a remote and/or challenging location. The requirement may be project driven or required for the ongoing operations and maintenance of field assets and facilities.
An effective project workforce solution means: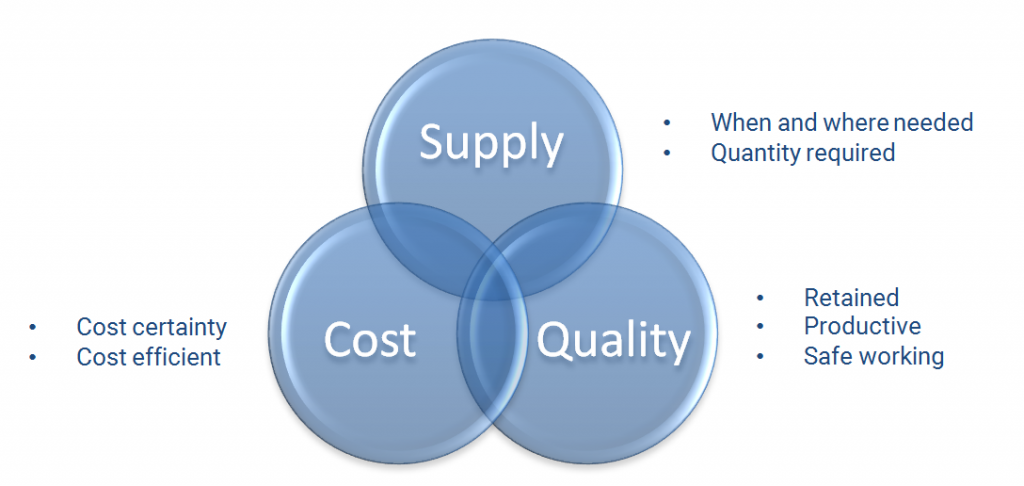 Where a business identifies a gap in the areas shown in the table below, then choosing a workforce delivery approach over a traditional one is likely to be more effective.
Driver – Gap – Improvement Need
Projects or assets needing 'lean cost' contingent workforce supply
Contingent workforce, broad scope of job disciplines, multi-site international locations
Cost of internal staff, tie-up of internal staff
Scarce skill sets with the necessary expertise and experience
Timelines to hire staff/ contingent are too long causing delays and cost overruns
Lack of visibility and control over the contractors workforce, performance is not bench marked for continual improvement
A TRS client solution will focus on a blend of the following:
A Workforce delivery solution is flexible and scalable
The solution is a selective to full outsource covering the core elements of a workforce need, as shown below: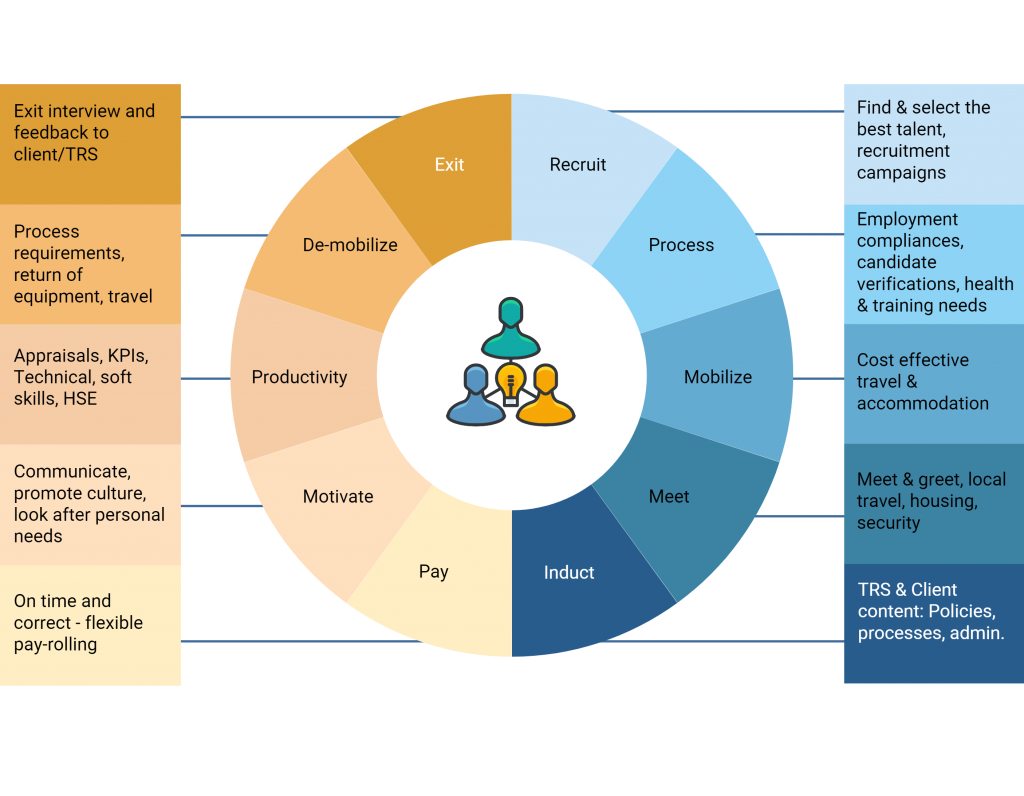 A TRS structured approach
Scale and flexibility mean we supply our services for the few to the many, a small team need of three, through to multi-function workforces of several hundred contingent contractors.
Workforce delivery is an agile service, our specialists must maintain a current and anticipated knowledge of all the factors which can cause costs to rise, delays to occur and quality to deteriorate. In today's world these risks arise from economic and political uncertainty, labour scarcity, cultural change and employment regulations. Our success over the last twenty years reflects expertise, experience and excellence in mitigating these risks for the benefit of our clients.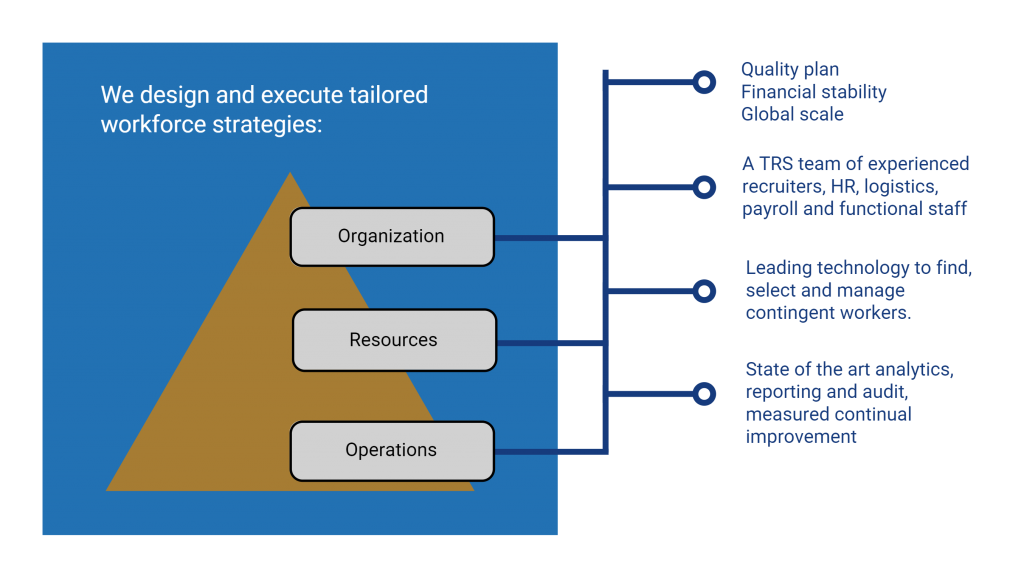 We have over 20 years of experience supporting clients in Kazakhstan, the Middle East and West Africa with contingent workforce solutions. Throughout, we have improved our knowledge, capability and expertise at attracting, maintaining and retaining diverse local, other country national (OCN) and expat workforces; allowing our clients to focus their resources on maximizing operational output.
In summary, TRS can deliver a tailored mix of services for your needs: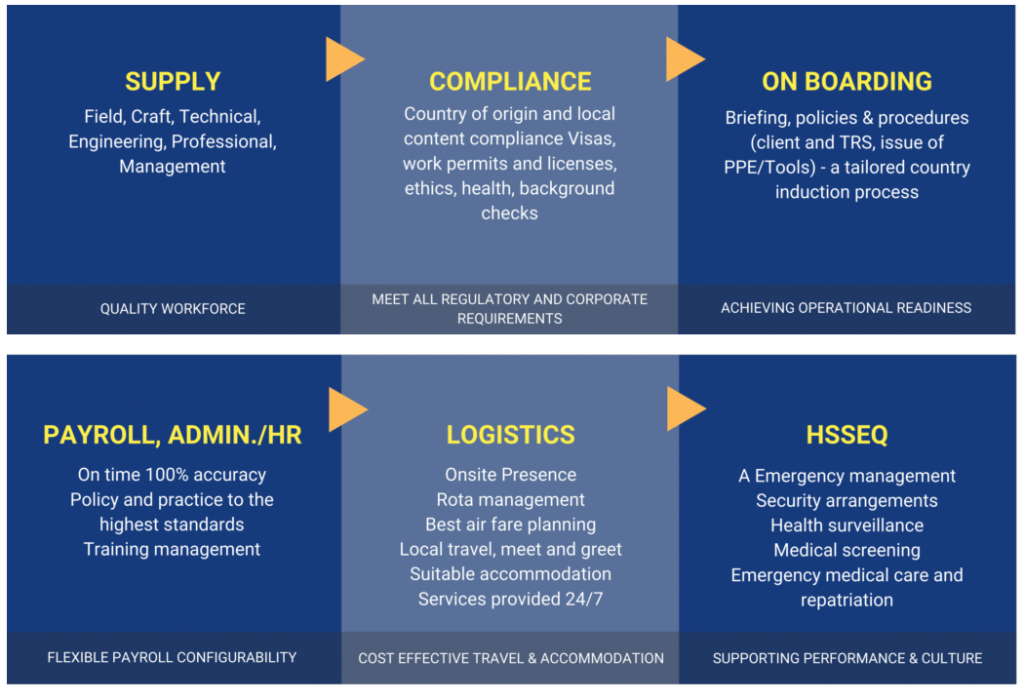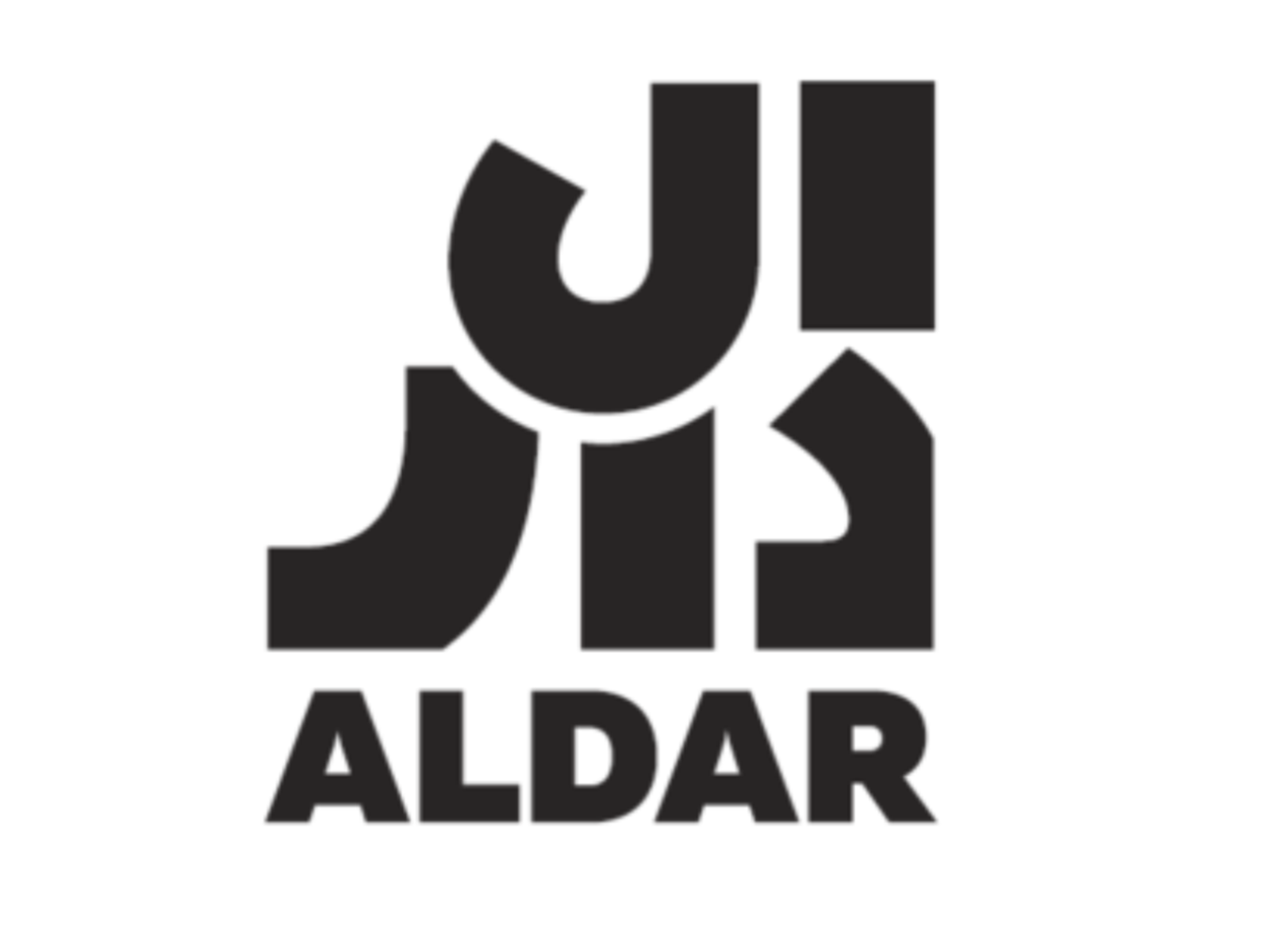 Al Falah Community Development
Client: Fluor Mideast Limited
Market: Infrastructure
Location: Middle East – Abu Dhabi, UAE
Duration: 2008 – 2011
Disciplines: Design, Construction, Management, Office based and Field Supervision
Brief Description: Over a period of 3 years, TRS provided a complete workforce solution for over 30 project hire employees. Recruitment through to demobilization and bus services. The HR and Administrative support TRS provided was key to the successful delivery of this project, allowing the project management to focus on execution of the project instead of HR/Administrative duties.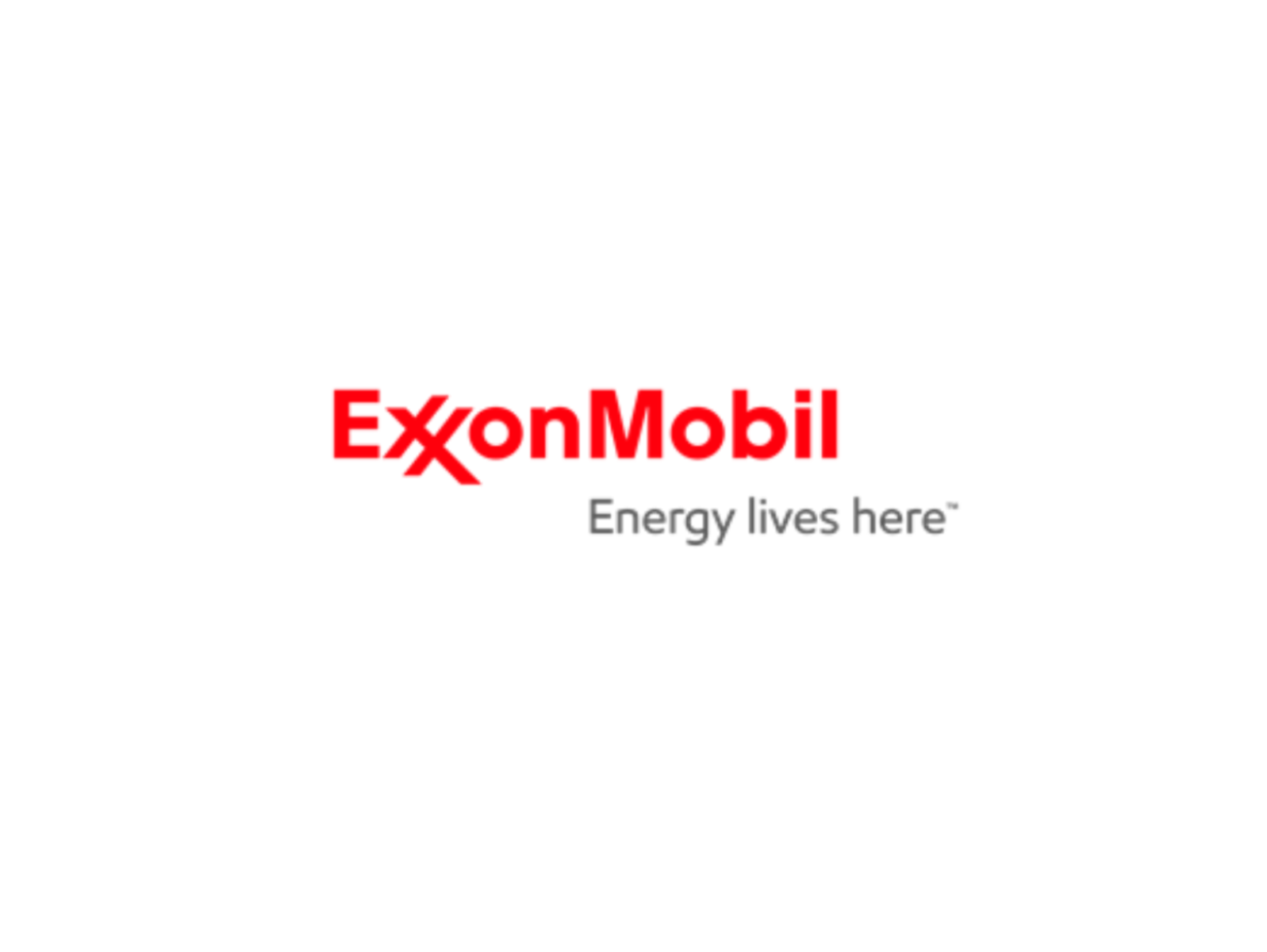 Support of ExxonMobil, Oil & Gas Exploration and Production, Offshore, Equatorial Guinea
Client: Mobil Equatorial Guinea Inc
Market: Oil, Gas & Chemicals
Location: Equatorial Guinea – Malabo
Duration: 1998 – ongoing
Disciplines: Engineering, Deck Crew, Logistics, Production Support, Facilities, Trainers, HSE, Insulators
Brief Description: Provision of 150+ specialist expatriate personnel, blue and white collar, onshore and offshore. Local entity created (CSP EG SL) in partnership with local services provider. Local site office established to provide full contractor and client support (logistics, medivac cover, visas, work permits, transportation, admin etc).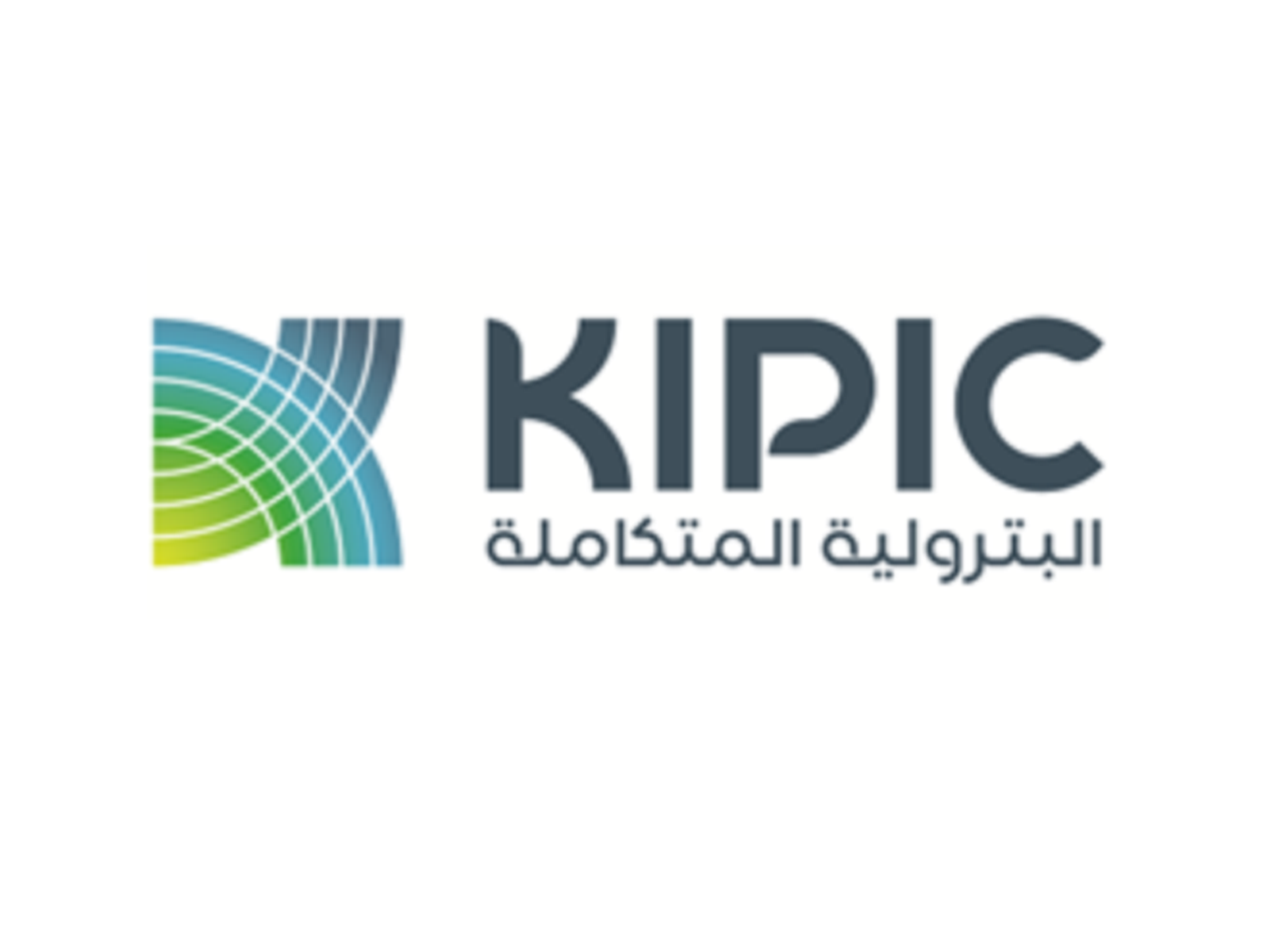 KIPIC Al-Zour Oil Refinery Project
Client: Fluor
Market: Oil, Gas & Chemicals
Location: Middle East – Kuwait
Duration: 2016 – 2020
Disciplines: Construction, Supervision, Engineering and Construction Personnel
Brief Description: TRS, on a fixed priced basis provided workforce solutions for 100+ personnel, approximately 40% of the total project. With on-site VOP support (Mobilization Expert, Recruitment Expert and Driver), TRS provided recruitment, administration, housing, transportation, mobilization and demobilization services for the duration of the project.