Established in 1984, the TRS Staffing Group (TRS) is a business line and wholly owned subsidiary of Fluor Corporation a publicly quoted Fortune 250 company (NYSE – FLR).
We are an expanding staffing business, with a network of 23 international offices across North America, Europe, the Middle East, South Africa, India, Malaysia and Australia. Our scope of supply is: professional; engineering; project services; technical; craft/trades/semi-skilled and functional.
We offer flexible solutions from the provision of 1 or 2 temporary staff needs, through to the recruitment and management of contingent workforces numbering over 1,000 personnel. Our highly regarded direct hire services find specialist, critical, key and executive talent for challenging roles wherever they are needed.
TRS design and implement tailored services for every staffing need, they cover:
Talent acquisition – temporary, contingent and direct hire needs
Managed Services Programs (MSP) and Recruitment Process Outsourcing (RPO)
Project/Asset Workforce Solutions
Consultancy
The services can be standalone or used to create an integrated solution offering flexibility and scalability. Our services can solve a temporary hire need of a few days through to a multi-disciplined project workforce need of several hundred personnel based in remote multi-site locations needed for a 3 year or more duration.
We work with owners, operators, EPCs and consultancies engaged in projects, operations and asset integrity across our chosen markets covering:
Oil, Gas & Chemicals
Infrastructure
Industrial, Life Sciences and Manufacturing
Power and Renewable Energy
Metals and Mining
Government – Public Sector
Technology (IT & Telecoms)
Automotive
Aerospace
Construction
Underpinning our expertise and experience in delivering workforce solutions are our resources consisting of:
We use current and leading recruitment contingent workforce management software, that helps us improve our clients':
Recruitment efficiency – improve process and overall  time to hire
Cost efficiency – improve: market rate intelligence, rate consistency, supply chain management, minimize costs of compliance
Workforce visibility – improve compliance and workforce performance through data analytics
TRS design and manage, large and often complex payroll arrangements for local and international needs. As a global staffing organization, we offer our customers a wealth of knowledge and experience in providing fully compliant, accurate and timely solutions covering a single contractor working abroad, through to a diverse workforce of several hundred personnel of local and international origin. 
We organize our business on a geographical basis identifying the major regions of North America, EMEA and APAC. Within each region, directors are appointed with regional responsibility. Our primary offices are London, Amsterdam and Houston.
TRS Staffing Group Organization Chart: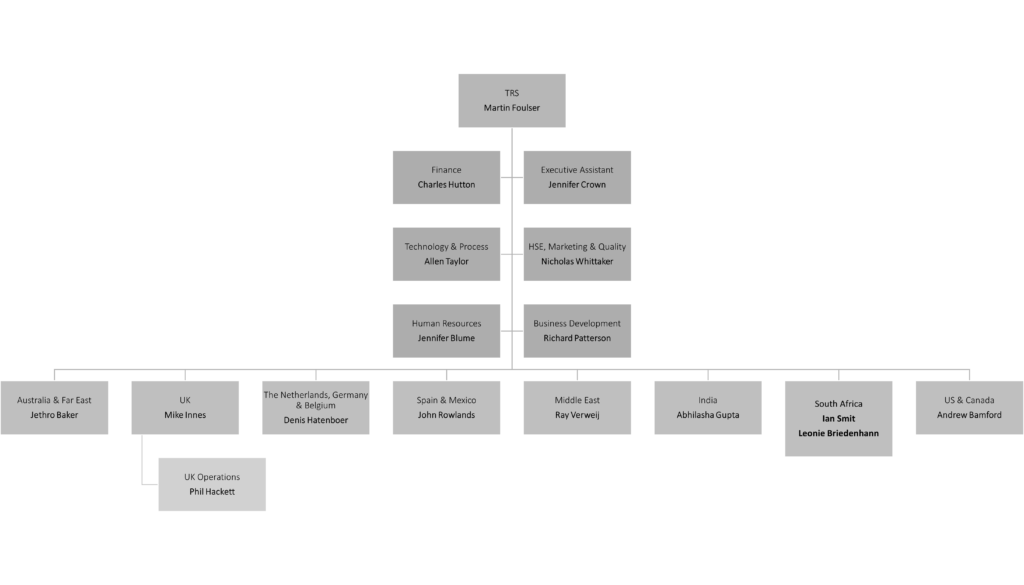 All offices share a single global candidate database which holds nearly all the global 'in the market' job seekers across our scope of supply. The database monitors many tens of thousands of candidates currently working or who have been placed by TRS. Up to 2,500 candidates around the world are registered on a weekly basis.
Using their networking skills and research resources, TRS consultants continuously grow their networks, identifying fresh talent many of whom are known 'passive' candidates (individual not actively seeking a job change). 
Working collaboratively with their colleagues around the world, a TRS consultant can access local, regional and global talent within seconds of initiating a customer search requirement.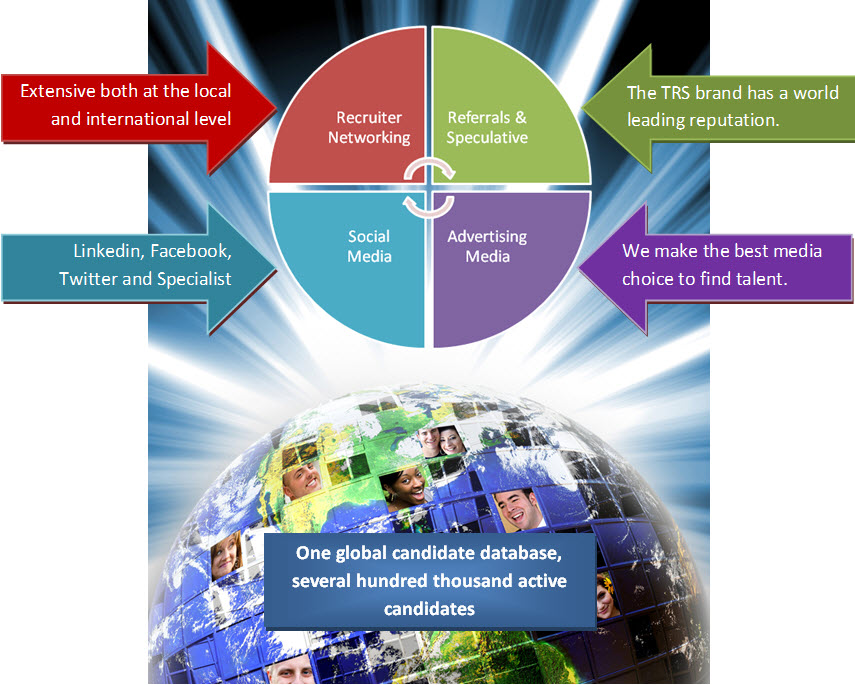 We work with businesses who have varying staffing challenges, from a short-term temporary or contingent need for one or two personnel through to a project staffing requirement covering a multi-skilled workforce of a thousand or more, based in a remote and/or challenging location.
Our direct hire staffing capability is equally flexible with services addressing single to high-volume needs, talent mapping and talent acquisition strategies.
We cover multiple industry sectors including; Energy (oil & gas) & Chemicals; Power (fossil & nuclear) & Renewables (wind, solar, wave, hydro); Manufacturing & Life Sciences; Aerospace & Automotive; Mining & Metals; Infrastructure Road & Rail; IT & Telecoms and the Public Sector.
Our services and capability address every phase of business activity from planning and design, through engineering, construction, procurement, operations & maintenance and decommissioning. We supply at all levels of seniority from apprentice through to chief executive.
Operating across North America, EMEA, Asia and Australia, our offices share a single global database of candidates, with access to many thousands more found online. On an around the clock basis, our recruiters, using their local and international networks are in contact with 'sought after' talent both current and new to the market.
Our highly collaborative global network of over 180 experienced recruiters and back-office staff use the latest technology and systems aligned to or certified to the ISO9001 quality assurance standard. For further staffing resource and expertise, we partner with preferred specialist local and international staffing suppliers, giving our offices both global and local scope capability.